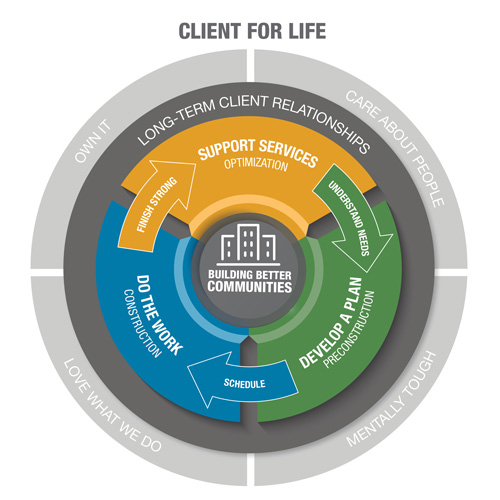 Serving Clients for Life
Our Client for Life approach touches every area of our organization. Represented in our Proven Process graphic, we take an intentional approach to client satisfaction. From the initial meeting through pre-construction, construction and ongoing maintenance and service, our team is focused on:
OUR GUARANTEE
We take pride in our work.  If it is not right, we will own it and make it right.
Building Relationships: Understanding Client Needs
Care about People
Genuine Curiosity
Listening Carefully
Responsive
Building Trust
Pre-Construction: Developing the Plan
Multi-trade Design Expertise
Leading-Edge BIM/VDC Software Tools
Options that Bring Value to the Client
Multi-trade Coordination
End User Engagement
Safety Planning for Construction and Facility Maintenance Staff
Construction: Implementing the Plan
Multi-trade Coordination
Efficiency through Innovation
Off-Site Fabrication and Modular Assemblies
Quality Craftsmanship
Jobsite Safety Culture
Schedule Certainty
Prepare Facility for Operation
Service: Operating the Plan
Preventive and Predictive Maintenance
Building Analytics
Comfort and Productivity
Safe and Secure
Utility Benchmarking
Training
24/7/365 Emergency Response
Long-term Relationship