Celebrating Women in Construction: Jennifer Miltenberger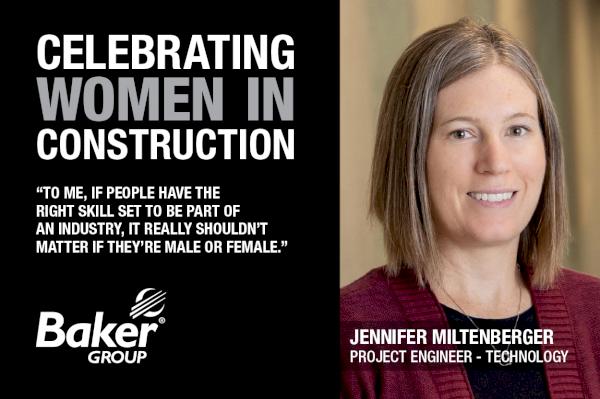 03.06.2023
Jennifer Miltenberger would hear daily about projects and often visited jobsites. That happens when your husband is a general contractor.
But as she thought about returning to the workforce, Miltenberger never imagined herself in construction. That was her husband's line of work.
"I really wasn't sure what I was going to do," says Miltenberger, who was a stay-at-home mother for nine years. "My husband had worked a lot with Baker Group and he and a close friend recommended it as a great place to work."
Miltenberger started with Baker Group as a project coordinator in November 2021. By the next summer, she was promoted to project engineer in the Technology Business Unit.
"Pretty much," Miltenberger says, "I've done a little bit of a lot."
Miltenberger's husband, Josh, who works for another construction company, had described a project coordinator to her as "the glue that holds everything together."
She quickly found that to be true.
"He had worked with some awesome project coordinators over the years," Miltenberger says. "It always sounded like something I would enjoy."
Miltenberger, who previously had worked for financial institutions, knew some construction terminology. She didn't know much about automation or technology or security, but she jumped right in and learned on the job.
Still, she found challenges as a woman working in construction. She believes many, including co-workers, see her and believe she doesn't know what she's talking about.
"Or that you're just there to take notes," says Miltenberger, whose new role allows her to work more closely on projects with field employees. "I think the great part is that once you kind of prove you're more than that, you do earn respect."
Miltenberger takes pride in her work and pride in being part of the construction industry as a woman. According to the National Association for Women in Construction, women represent 10.9% of the entire United States construction workforce in 2022.
"We're underrepresented, but that's OK. It's kind of the nature of the industry," she says. "It is getting better. To me, if people have the right skill set to be part of an industry, it really shouldn't matter if they're male or female."
About Baker Group
Baker Group is a commercial and industrial specialty contractor based in Ankeny, Iowa. With more than 1,100 employees, Baker Group is the Midwest's premier full-service specialty contractor providing mechanical, industrial, sheet metal, electrical, building automation, process automation, security systems, fire alarm systems, parking/revenue controls and 24/7/365 service. For more information, call 855.262.4000 or visit www.thebakergroup.com.