SERVICE - The Value of Expertise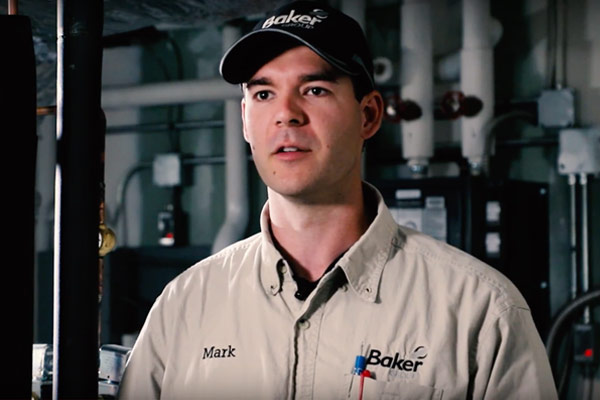 02.19.2019
What service technician could possibly know everything there is to know about the huge array of mechanical systems in today's commercial and industrial buildings? The answer is: There isn't one. But at Baker Group, each of our service technicians has immediate access to every expert within our organization – all 650 of them. That makes solving service problems efficient and effective.
Mark Leverman, a Baker Group Service Technician, says, "It's really hard for anyone to master all the different types of systems that are out there. So at Baker Group, there's just a wealth of knowledge. Somebody's going to have an answer, be able to solve your problem and get your service issue taken care of. That's what's really great about Baker Group."
In fact, pulling together diverse resources to solve problems gives Baker Group a lot of satisfaction. "Many times we'll approach clients, look them square in the eye and say, "Give us your worst problem and let us work on it for you,'" says Daryld Karloff, Executive Vice President – Building Services. "The answer is here, somewhere in our organization. We'll find it for you."
This can-do attitude is why many of our Service clients also have a comprehensive service contract with Baker Group. They know exactly what their service budget will be – regardless of unexpected and potentially costly repairs – and they enjoy little to no downtime.
"With a comprehensive service contract, every aspect of your equipment's maintenance is taken care of. No additional money comes out of your pocket," says Dale Drent, Service Business Unit Leader.
For more information, click here or call 515.262.4000.
About Baker Group
Founded in 1963 and with 650 employees across Iowa, Baker Group is the Midwest's premier full-service specialty contractor providing mechanical, sheet metal, electrical, compressed air, building automation, process automation, security systems, fire alarm systems, parking/revenue controls and 24/7/365 service. For more information, call 855.262.4000 or visit https://www.thebakergroup.com/.