Schedule Your Spring A/C Check Now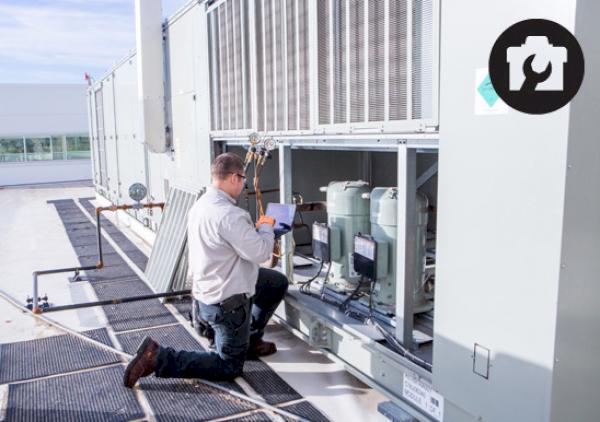 01.22.2019
Once it gets hot outside, an HVAC system that fails can lead to significant costs – not only in repairs, but also in lost employee productivity. Getting your HVAC system ready for summer now will help you:
Avoid Costly Repairs. The main reason to have your HVAC system prepped for summer is to protect the heart of the HVAC unit – the compressor. "The compressor is very costly to replace, but keeping it in tip-top shape is inexpensive," says Ryan English, Service Operations Manager.
Below are some of the major tasks completed during a preseason HVAC preventive maintenance visit:
Check refrigerant pressures and levels. Too much or too little refrigerant can reduce your system's efficiency, damage the compressor and other equipment, and increase energy costs.
Replace worn contactors and electrical components. This will keep your compressor from failing prematurely.
Tighten loose wiring connections to make sure proper voltage reaches the unit.
Replace air filters to prevent airflow issues and dirt from getting trapped in the indoor coil.
Wash the condenser coil (outside coil) so the system will run as efficiently as possible when temperatures outside reach extreme summer conditions.
Avoid Productivity Losses. "When people are too warm, their patience wears. They are irritable and more likely to complain, and their productivity can go way down," says English. Based on a study by Helsinki University of Technology in Finland and the Lawrence Berkeley National Laboratory at Berkeley, California, workplace performance is highest when temperatures are between 69.8 degrees and 71.6°F.
A study by Cornell University found that workers in an uncomfortable thermal zone make 44 percent more typing errors and output decreased by 150 percent, resulting in decreased productivity of $2 per worker, per hour.
Lower Utility Costs. A properly maintained HVAC system will operate more efficiently. Since your HVAC system often consumes more than half of your building's total energy, it is possible to reduce your utility costs by as much as 15 percent. 
We're scheduling A/C checks now. As soon as outdoor temperatures rise above 50°F, Baker Group begins preparing our clients' HVAC systems for summer. To schedule your HVAC checkup, contact Baker Group at 855.262.4000.
Important Safety Note:  To reduce liability and risks associated with HVAC electrical hazards and refrigerants, please allow only properly trained personnel to care for your HVAC equipment.
About Baker Group
Founded in 1963 and with 650 employees across Iowa, Baker Group is the Midwest's premier full-service specialty contractor providing mechanical, sheet metal, electrical, compressed air, building automation, process automation, security systems, fire alarm systems, parking/revenue controls and 24/7/365 service. For more information, call 855.262.4000 or visit https://www.thebakergroup.com/.