PLCs: Reliable Control of Industrial Devices & Processes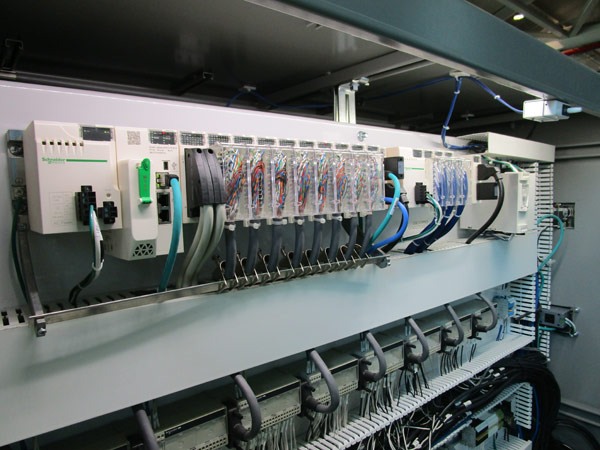 02.21.2019
First used to replace hard-wired relays, timers and sequencers in automobile manufacturing, programmable logic controllers (PLCs) are today used in industrial settings to provide flexible, reliable and customized control of assembly lines, robotic devices and processes. PLCs are also integrated to connect multiple devices, provide cloud connections, and enhance safety and security.
Baker Group is one of few mechanical contractors to have an inhouse PLC engineering, installation and service team.
Having inhouse PLC capabilities just makes sense, says Jason Nichols, one of Baker Group's Automation Project Engineers. Our automation team has instant access to other Baker Group skills – Electrical, Mechanical, Plumbing, Piping and Sheet Metal – which translates into seamless installation and service for clients.  
Smoother Operations for Factory Environments
There's virtually nothing in a factory that can't benefit from the tight control and reliability of PLCs. "We can engineer solutions for anything an industrial client may need," says Nichols.
Using hardware from several top-rated manufacturers (Rockwell Automation and Schneider Electric, for example) Baker Group offers clients hardware options for a vast array of industrial needs – controlling palletizers, conveyor lines, temperature, dust, extracting processes, HVAC systems and much more.  
Automation Project Engineers then customize solutions that can range from simple programming for specific processes to complex and scalable systems with thousands of input and output points.
Doug Akins, a PLC Project Manager with Baker Group, says, "The biggest benefit Baker Group offers is our full-service inhouse shop. Our experience with multiple levels and types of equipment and processes is a huge benefit." Baker Group's PLC team can service many different brands of PLC hardware, including some that are decades old.
Clients Come First. Always.
"At the core of Baker Group's steady growth in PLC design and integration is its client focus," says Akins.
"When we walk into a client's facility, they understand that we really want to help them. They know, no matter what their issue is, we will come up with viable options and help them determine the best solution," he says.
A Baker Group PLC Project Manager serves as a client's primary point of contact. However, adds Nichols, "Another great thing about not being a one- or two-person PLC shop working independently is, as a team, we know what each other is doing. If a client has a question or issue, there's always someone here who can help."
To learn more about Baker Group's PLC integration, call 515.262.4000.
About Baker Group
Founded in 1963 and with 650 employees across Iowa, Baker Group is the Midwest's premier full-service specialty contractor providing mechanical, sheet metal, electrical, compressed air, building automation, process automation, security systems, fire alarm systems, parking/revenue controls and 24/7/365 service. For more information, call 855.262.4000 or visit https://www.thebakergroup.com/.