Krause Gateway Center: Our Relationship Continues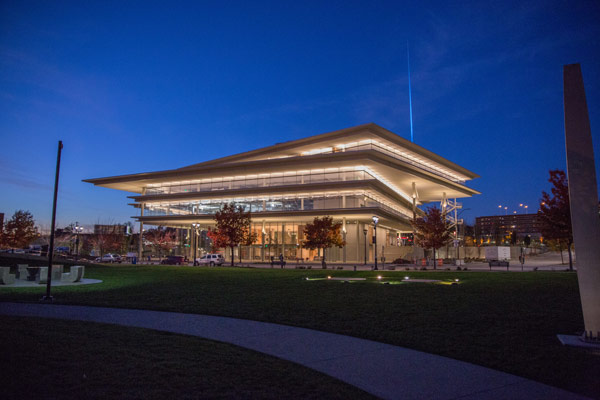 02.25.2019
In November 2018, Krause Group associates settled into their organization's stunning, six-story Krause Gateway Center (KGC) in downtown Des Moines. Baker Group provided design-build services for the mechanical, plumbing and building automation systems (BAS) for the building and its two-story underground parking garage. Recently, Krause Group extended its relationship with Baker Group with a Preventive Maintenance & Service agreement, which includes an innovative work order system to support fast, accurate and cost-effective service of mechanical systems.
Chad Rasmussen, Krause Group's Director of Asset Management, says, "Baker Group was always completely professional, and they felt like a true partner … everyone demonstrated a sense of pride and ownership in the project. Once [Baker Group's] scope and price were set, we really didn't hear much from them, which was a good thing. They just focused on their scope of work and did it."
Relationship Built on Innovation, Collaboration & Trust
Baker Group's design relationship with Krause Group began over three years ago, well before construction began. As part of a large project team, Baker Group collaborated with the owner, RPBW (Renzo Piano Building Workshop), OPN Architects, Ryan Companies and many other trades.
Matthew Van Loon, Senior Project Manager with Ryan Companies, says, "With such a large design and construction team, and the unique nature of this project, the team dynamic that was created was second to none.  The team collaborated to come up with the best solutions – everyone was focused on what was best for the project, not their individual interests."   
Designed by world-renowned Italian architect Renzo Piano, some of the KGC's unique features include striking clean lines, a mostly glass façade, large balconies, an architectural mast rising 180 feet above street level, a grass roof, and abundant outdoor accents and amenities. From a mechanical infrastructure perspective, building this "piece of art" provided some major challenges:
The typical space above ceilings used to house duct, piping, conduit and other components did not exist. Integrating these components through openings cut into the structural steel above ceilings required out-of-the-box thinking and teamwork. "This required a hyper-level of problem-solving and coordination of trades – it was like no other project we've done," says Joel Veenstra, Baker Group Project Manager.
Clean ceiling layouts required Baker Group to meticulously plan and place access doors, diffusers, sprinkler heads, light fixtures and other ceiling components around the mechanical infrastructure.
The extensive exterior glass created heating and cooling challenges, which Baker Group resolved with in-slab perimeter radiant heat and detailed design and layout of overhead diffusers.
Van Loon says, "Baker Group used their expertise to come up with creative solutions to meet the design objectives of the project, while at the same time delivering a quality product for the owner. They understood the different goals and did a great job of balancing form with function."
Post-Construction, the Relationship Continues with Innovative Service Model
With construction complete and mechanical systems working together to keep the KGC comfortable, the Krause Group team wanted to build a work order system that would make maintenance and service faster, more accurate and cost-efficient.  
"BIM models are extremely powerful, but most of the time they get put on the shelf after construction," says Dale Drent, Baker Group's Service Business Unit Leader. "Krause Group wanted to take the electronic version of the building, keep it active, and use it to be more intelligent about how they operate their building," he says.
After surveying both software developers and a national network of peers through membership in Synergy Solutions, Baker Group found very few mechanical contractors who use their construction BIM model to support service. "It turns out that less than 1 percent are doing this nationwide," Drent says. 
Seeing BIM as a significant opportunity to enhance service while meeting Krause Group's goals, Baker Group moved forward, creating and implementing a work order system tied to the building's BIM models.
"Each piece of equipment is labeled with a unique equipment identifier and a QR code, from the various air-handling equipment to hydronic equipment and everything in between. We simply scan the label with a smart phone or tablet to receive the complete information about that equipment and its service history," Drent says.
Effectively, this new system renders old and often incomplete paper records obsolete. Instead, facilities personnel and Baker Group's service team instantly receive a complete and accurate history of repairs, maintenance and everything else that has happened to that piece of equipment throughout its life.
Rasmussen adds, "Now that the project is finished, they continue to be responsive to our needs. It has been a true pleasure to work with Baker Group!"  
About Baker Group
Founded in 1963 and with 650 employees across Iowa, Baker Group is the Midwest's premier full-service specialty contractor providing mechanical, sheet metal, electrical, compressed air, building automation, process automation, security systems, fire alarm systems, parking/revenue controls and 24/7/365 service. For more information, call 855.262.4000 or visit https://www.thebakergroup.com/.