For What Industry Don't We Provide Electrical Services?
08.13.2019
Good question. Because as far as we know, there isn't one.
From the 1990s when we hired a few electricians to support our HVAC installations, Baker Group has grown to be one of the region's largest, most comprehensive electrical contractors providing everything from simple service calls to full-service design-build projects for:
Industrial
Agriculture
Commercial & Structured Cabling
Mission Critical
Mike Lipp, with 25 years in the construction industry, oversees the 100+ employees in Baker Group's Electrical business unit, says, "Proficiency in all these areas demands having people who are experienced in each of these fields. We have electrical engineers, designers and technicians who work exclusively on industrial projects. The same with mission critical, and ag, and commercial."
Electrical Design & Collaboration
Matt Breton, a licensed Project Engineer, believes Baker Group is on the cutting edge with its electrical design capabilities. For example, the four-person design team is proficient with the AGI 32 lighting design program, SKM arc flash analysis and design, Revit 3D CAD and augmented reality (AR).
"We also use technology to facilitate collaboration with the whole team – internal and external – to make sure the owner gets the product they want," Breton says.
Lipp adds, "Our electrical detailers all came from the field. That's a big deal in the industry; their knowledge comes from having actually installed electrical systems, not just the classroom."
Full-Service Capabilities
Lipp adds, "Having the full range of electrical services under one roof adds tremendous value for clients. We coordinate all aspects of the electrical package, which translates into more efficient design and installation, money savings and few – if any – surprises."
Powering Industrial Facilities
"Industrial work is power-driven. Industrial clients don't care about lighting or fanciness," says Lipp. "They care about getting systems that are reliable and efficient at the best value."
Providing this reliability and redundancy are a team of electricians who have 10 to 15 years of industrial experience. They understand industrial processes as well as the hazards presented by gases, dusts, mists, fumes and more. They know how to get the work done right and with minimal disruption to operations.
"In industrial work, there is no cookie-cutter solution. You have to work through all the fine details one project at a time," says Breton. A couple of recent examples include:
Marijuana grow facility (new construction). This involved working with the client to understand the plant's growth stages and optimum lighting for each stage. Based on this information, Baker Group developed and installed a flexible lighting distribution system that optimally supports the plants' evolution.
Glycerin plant (existing construction). For the new owner of this plant, Baker Group conducted an electrical engineering study, scanned the facility to create drawings and provided power monitoring. Baker Group is now also providing design-build for power, lighting and industrial controls.
About Baker Group
Founded in 1963 and with 650 employees across Iowa, Baker Group is the Midwest's premier full-service specialty contractor providing mechanical, sheet metal, electrical, compressed air, building automation, process automation, security systems, fire alarm systems, parking/revenue controls and 24/7/365 service. For more information, call 855.262.4000 or visit https://www.thebakergroup.com/.
Best Mechanical Contractor 2019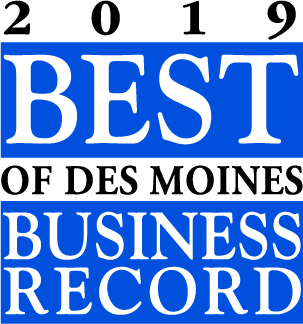 Baker Group was awarded the Des Moines Business Record's Best Mechanical Contractor for 2019!
Runner-up Best Electrical Contractor 2019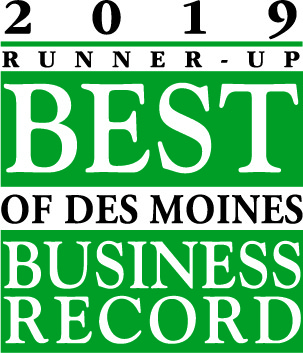 For the second year in a row Baker Group is runner-up for the Best Electrical Contractor.