Doing Electrical Work in Industrial Facilities for Decades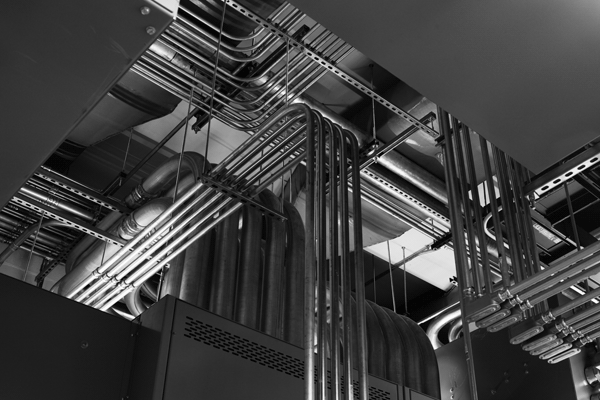 01.17.2019
As part of its mechanical contracting work, Baker Group has quietly provided commercial and industrial electrical expertise for over 30 years.
"Our Electrical business unit is newer, but we're not new to electrical contracting," says Jack Alsted, Senior Electrical Project Manager who has been with Baker Group more than a decade. "Our personnel, technology and procedures are tops. I don't think there's any electrical job we can't do."
Supporting the Unique Processes of Industrial Plants
Mike Lipp, Electrical Business Unit Leader, explains that while most commercial work deals with things such as power distribution, lighting and receptacles, industrial work focuses more on the facility's processes – and no two facilities are exactly alike.
He says, "One of the biggest differences comes down to classification – are there gas, dust or vapors in the air that have the potential to ignite? How will we fire up motors? What's the best way to integrate PLC (programmable logic controller) to devices?"
The answers to these and many other questions must be addressed early and factored into the engineering design. They also vary widely by industry:
Food-related facilities typically require stainless-steel materials, dust minimization and compliance with FDA and USDA standards.
Manufacturing processes often have complex conveyor systems that integrate vendor-supplied equipment.
Biodiesel and refineries have vast networks of motors, pipes and tanks that require ramping up the flow of a product to a specified output, volume or temperature ratio.
Agricultural storage, grain handling and processing facilities have intricate processes that transform fresh-from-the-field grain into final products, such as extracted oils or chemicals.
"Lipp says, "Serving the electrical needs of diverse industries requires a lot of knowledge. It takes a team that has this knowledge and can help clients get their products out as quickly as possible."
3D Scans & Building Information Modeling (BIM) Technology
Alsted says, "Especially in industrial work, you've got to have yours I's dotted and T's crossed."
Baker Group uses 3D scanning to capture data about an existing facility, and then uses that information to replicate the facility's infrastructure using BIM models. This allows electrical engineers and detailers to design electrical systems with pinpoint accuracy while meeting code requirements for gear and conduit sizes.
Alsted adds, "By figuring out and modeling out electrical early, we eliminate problems and minimize change orders later."
Prefabricating Components & Control Panels
Baker Group's Advanced Manufacturing facility custom-manufactures conduit racks, vertical runs and underground runs. It also includes a UL508A Labeled Electrical Panel Building room, where controllers, motor drives and other controls are prewired, tested and sent to the field for prompt installation.   
"Prefabricating electrical components in our facility helps avoid plant shutdowns. It also comes into play when construction schedules get squeezed: Electrical work usually occurs late in the project, and early fabrication of components and controls lets us get in and out of the project quickly," says Lipp.
Excellent Safety Rating
Alsted says Baker Group's Safety rating is worth noting.
"Our safety rating is incredibly good," says Alsted, noting that the Experienced Modification Rate (EMR) assigned to Baker Group by the insurance industry is just .78, compared to the national average of 1.00. The lower the EMR, the lower the business's past cost of injuries and projected future risk.
"Having an excellent safety rating is so important, and why so many industrial facilities choose Baker Group for their electrical needs," Alsted adds.
To learn more about Baker Group's Electrical capabilities, please call 515.262.4000.
About Baker Group
Founded in 1963 and with 650 employees across Iowa, Baker Group is the Midwest's premier full-service specialty contractor providing mechanical, sheet metal, electrical, compressed air, building automation, process automation, security systems, fire alarm systems, parking/revenue controls and 24/7/365 service. For more information, call 855.262.4000 or visit https://www.thebakergroup.com/.