Baker Group Receives Telly Award for Role in MCAA Video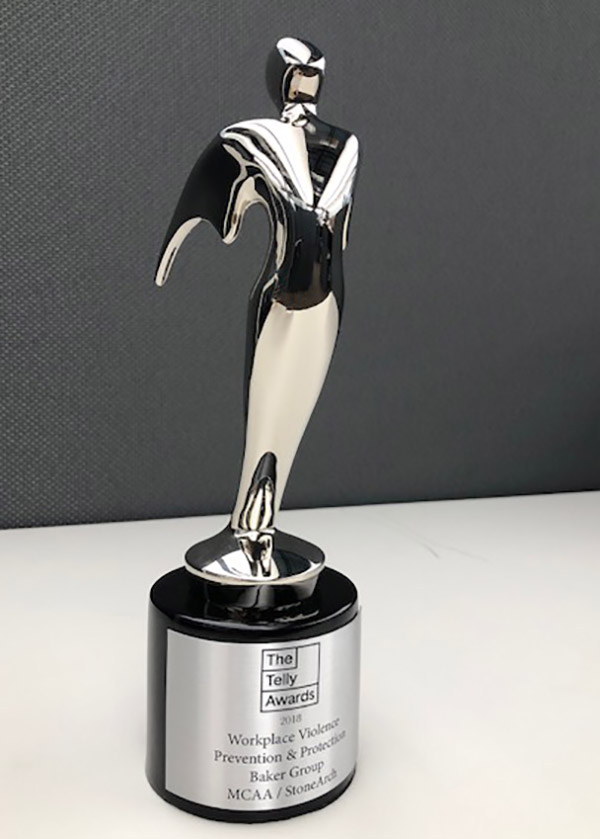 01.10.2019
Baker Group, Central Iowa's leading mechanical, electrical and plumbing contractor, has received a Telly award.  The award honors Baker Group for its part in creating Workplace Violence Prevention and Protection, a safety training video produced by the Mechanical Contractors Association of America (MCAA) in 2018.
The Telly Awards is the premier award honoring the finest film and video productions, groundbreaking web commercials, videos and films, and outstanding local, regional and cable TV commercials and programs from around the world.  Selected from more than 12,000 entries – most of which came from esteemed advertising agencies, television stations, production companies and publishers nationwide – the Workplace Violence Prevention and Protection video helps prepare pipefitters, plumbers, service technicians, fabrication shop workers and office employees for the possibility of workplace violence.
Tracy Haus, Baker Group's Safety Director, says, "Safety is a core value for Baker Group, and we have long worked with MCAA to assist with their video productions aimed at educating workers and office staff about safety issues affecting our industry." For this production, Baker Group provided locations for shoots, production-site coordination and employees, who provided on-screen talent for several roles in the video.
"We consider it a privilege to work with MCAA to improve the wellbeing of construction workers, and are honored to be recognized with a Telly for our involvement in this important video," adds Haus.
About Baker Group
Founded in 1963 and with over 650 employees across Iowa, Baker Group is the Midwest's premier full-service specialty contractor providing mechanical, sheet metal, electrical, compressed air, building automation, process automation, security systems, fire alarm systems, parking/revenue controls and 24/7/365 service. For more information, call 855.262.4000 or visit https://www.thebakergroup.com/.