Baker Group Receives 2018 Peer of the Year Award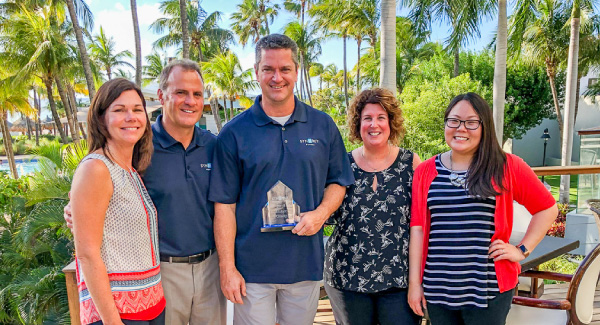 01.04.2019
Synergy Solution Group, a national network of peers in the commercial HVAC industry, selected Baker Group from among 43 member-peers for its annual Peer of the Year award, which recognizes the member who best represents Synergy's core values of commitment, humility, accountability, integrity, innovation and fun.
As a Synergy Solutions member, Baker Group actively supports peers by responding quickly and openly to requests for information, offering insights into Baker Group's business practices and successes, and helping develop Synergy's training programs. "In addition, in 2018 we hosted one of Synergy's construction training forums at our office, which included a tour and explanation of how our Advanced Manufacturing facility is improving the quality, speed and value we provide clients," says Dale Drent, Baker Group's Service Business Unit Leader and Synergy Solution Group board member.
Drent adds, "To be a part of this group means you get to network with best-in-class HVAC service organizations who are innovating and setting the standards industry-wide. To be selected among this remarkable group for this award is very humbling. It reflects our commitment to continuous improvement in our own organization as well as to helping other HVAC companies be the best they can be."
About Baker Group
Founded in 1963 and with over 650 employees across Iowa, Baker Group is the Midwest's premier full-service specialty contractor providing mechanical, sheet metal, electrical, compressed air, building automation, process automation, security systems, fire alarm systems, parking/revenue controls and 24/7/365 service. For more information, call 855.262.4000 or visit https://www.thebakergroup.com/.